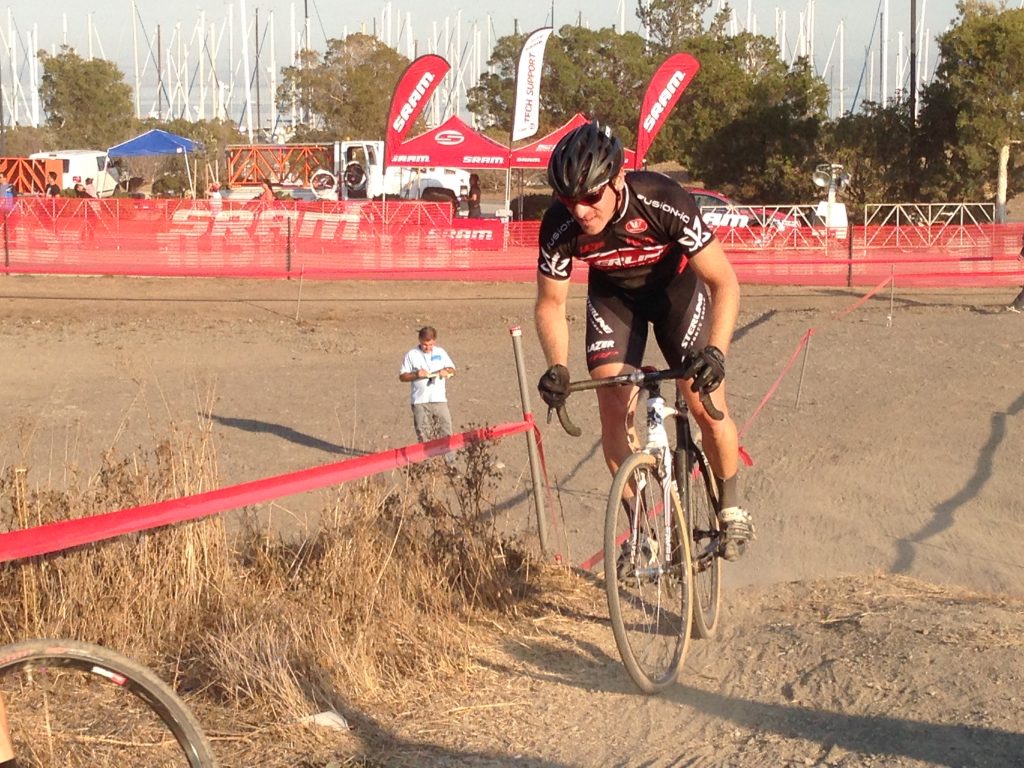 It occurred to me in the last couple of days that we are at the dawning of a new decade. Will it be a return to the "Roaring 20's" of the last century or are we simply one step closer to our own demise?
I recently wrote a bit about some of the changes in training theory over the last decade, so instead I am opting to look back at the decade that was from a slightly more personal narrative.
As luck would have it, or more accurately as my parents deigned it, I was born at the end of a decade, so I get to simultaneously turn the page on my own decade at the same time the World does. That didn't really occur to me in any "important" way until a few days ago either…
I blew out of the decade with aplomb, well the exact opposite actually. Spending days in the hospital and weeks on the mend is not how I thought my decade would end, but I aim to use the crash as a period mark on the very idea of injurious accidents! Yep, that's my last big ouchie crash. Get it all out of my system before age and infirmity settle in, I say. Why wouldn't I make that pledge…crashing sucks and I'll admit a wariness at doing it again.
But let's not dwell in the present…
---
The 10's started with racing, much the same as the one before and the one before that as well. This iteration was cyclocross, more specifically "Sterling 'Cross" my race team that in 2010 was entering it's third season of railing around NorCal and having fun!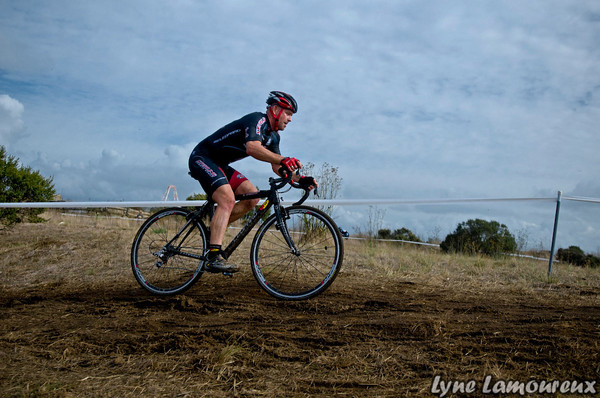 I think it was Murphy Mack who said I was mostly really good at marketing, but the reality is that I was also good at getting good riders to come out and play in the dirt with me. World Cup winner Megan Guarnier, former BMC pro Mike Sayers, 3x Olympian Eric Wolhberg, Ironman winner and Pro Cyclist Liza Rachetto, International Pro Adam Carr, Single Speed sensation Patrick Kitto and many many others toed the line in the Sterling kit over the years and I am fortunate to also call them friends.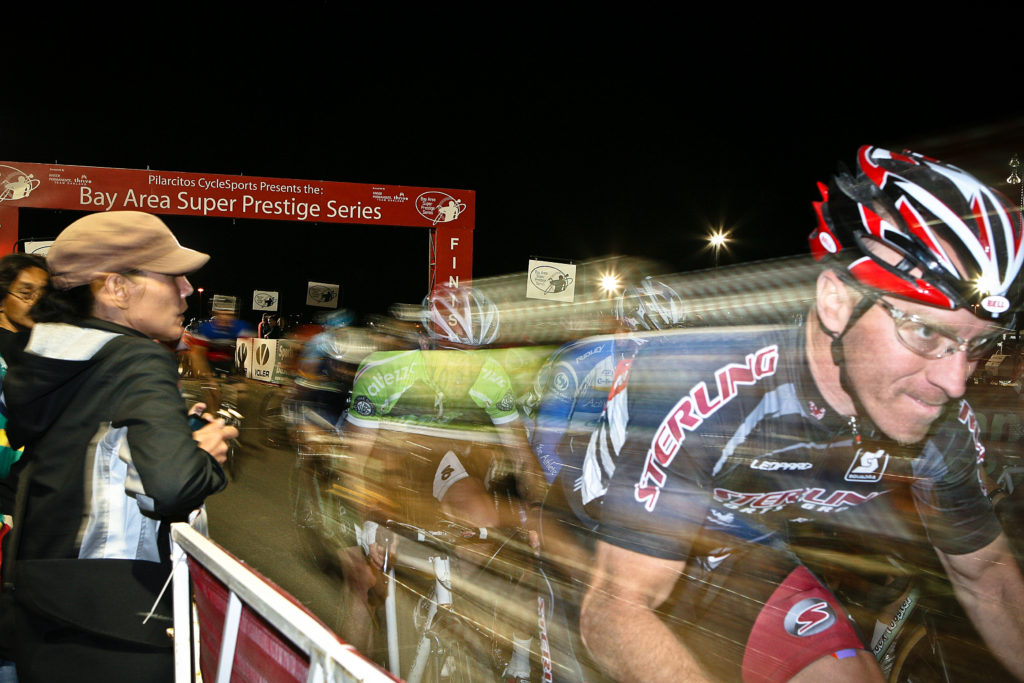 The team raced so well, always in contention across multiple categories. Bill Strachan winning the BASP overall was a high point, watching a young Matthew Valencia hauling a bike that was nearly as big as he was over barriers, Liza taking the Idaho State Championship, Our Nationals experiences, all come together to create so many fun memories.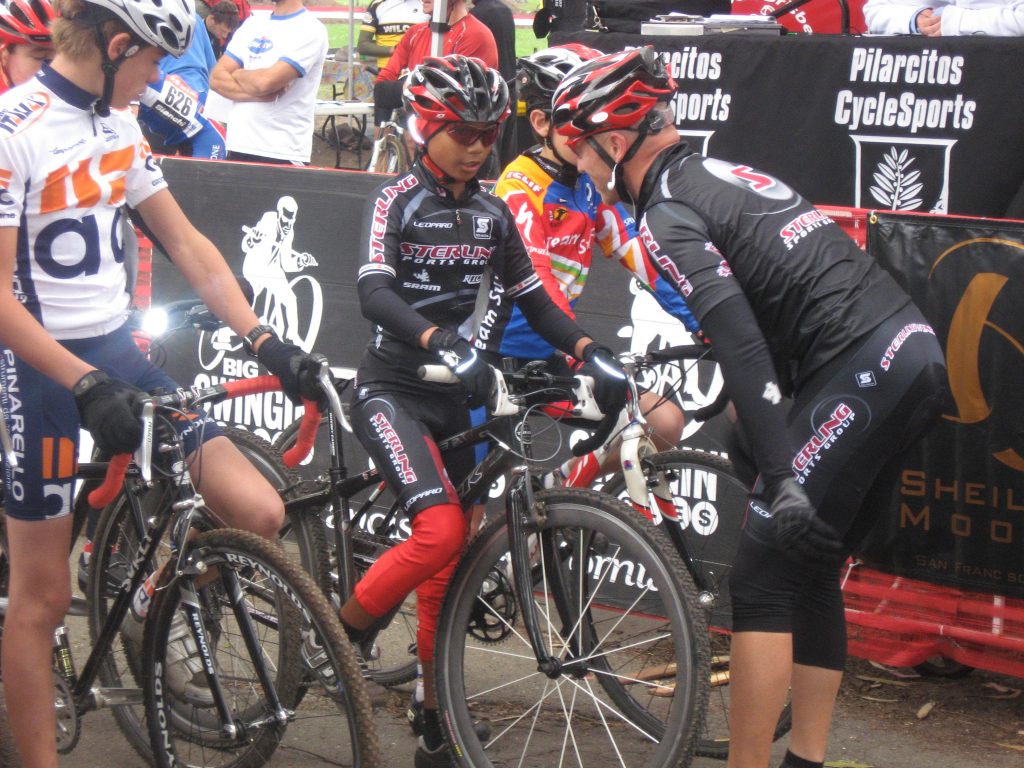 Every year the culmination wasn't districts, no for us it was the BASP night race! We used it as an excuse to put on a party – and boy did we! One year we made everything from scratch at home, including a "Sterling" cake (see previous post!), custom burrito makings, and a ton of chips and dip. The last few years we hired a caterer and threw a real party. I'm talking fabulous tacos and burritos, more homemade desserts, a "kid zone" for all the little ones to watch movies and play. in 2012 one of my neighbors even made us some home brew! 5 gallons of "Fat Tire" replica and 5 gallons of "Belgian Triple" that had me sleeping in the car for a few hours by absolute necessity. Running a CX team was always a labor of love, but we also had some great sponsors who made it much easier. Sponsors over the years included: TRP Brakes, Challenge Tires, Leopard Bikes, Fusion IO, Sendmail, and others really stepped up for us.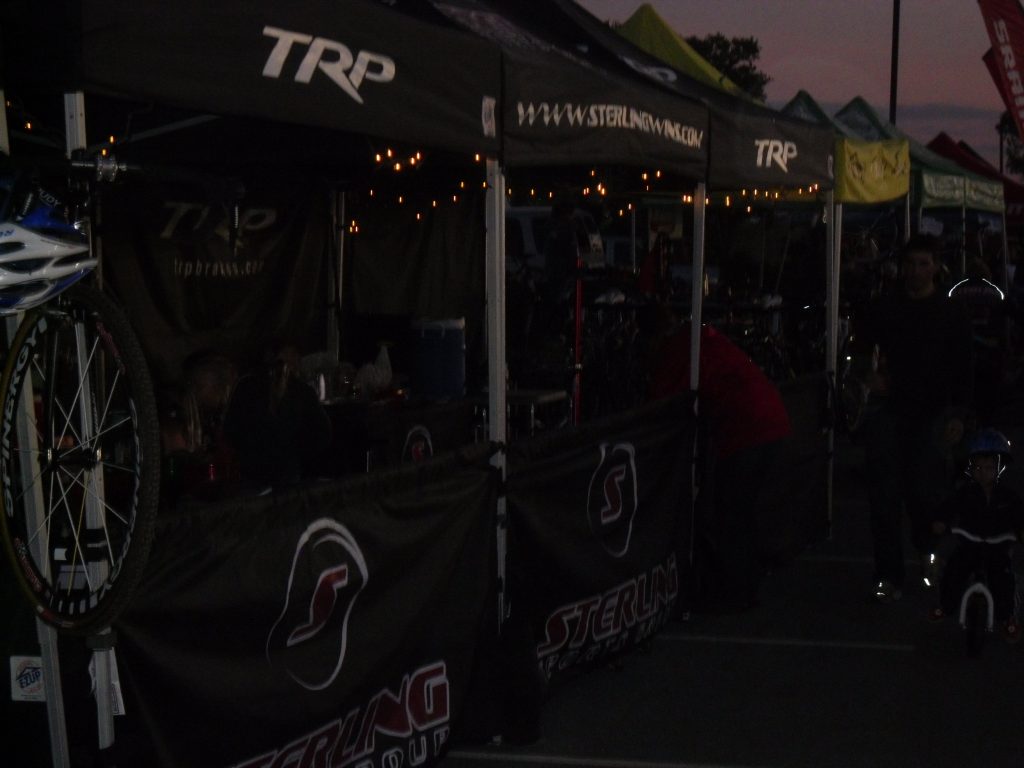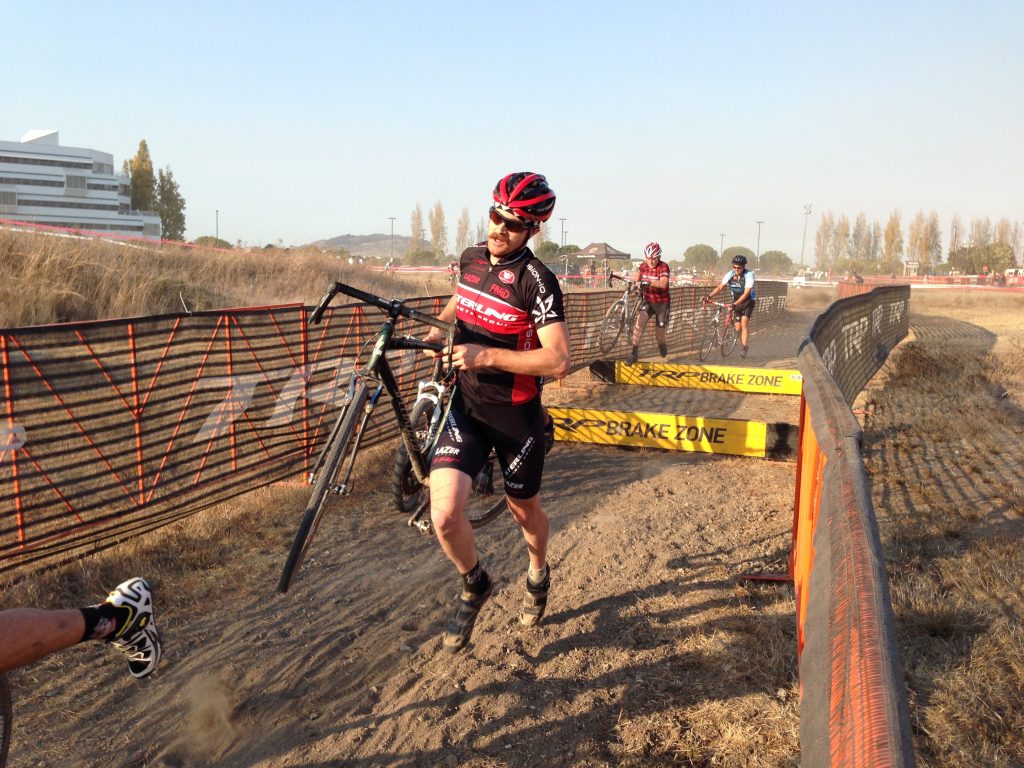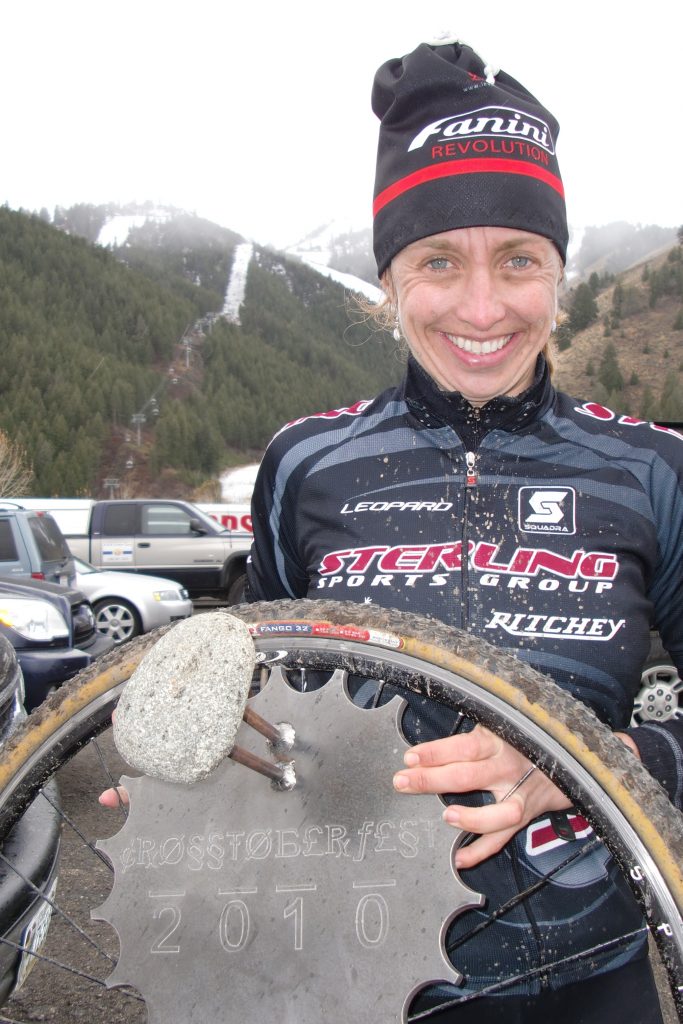 ---
The 10's were also the decade I discovered that International travel did NOT have to be out of reach for a middle class coach like myself. Indeed the 2nd half of the decade was when travel really settled into my bones as a necessity. As a bike racer, I've always travelled – one of the fringe benefits of cycling and racing is the chance to go places not previously considered. Yet, the experiences I've managed since 2015 really raised the bar.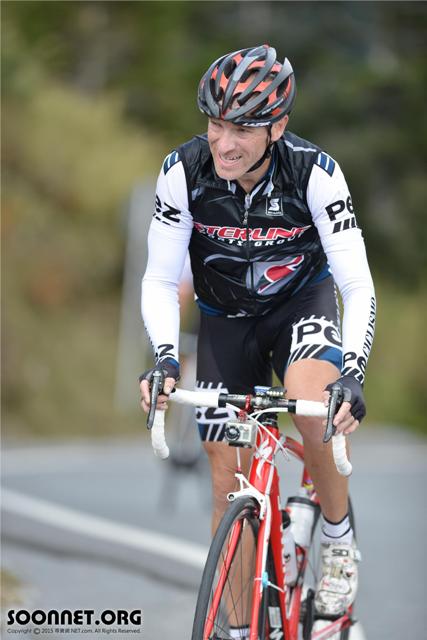 It started in Taiwan really. Richard Pestes, publisher and owner of PezCyclingNews.com asked me if I'd be able to go and ride the Taiwan KOM and write some articles about the experience. I jumped at the chance – wouldn't you? A tough race in a far off land? What could be more enticing to a bike racer nerd? Such an experience it was too! From access to the Eva Air VIP lounge, to my first ride up YanMingShan with a host of other journalists and guest riders, to dining at the World famous Din Thai Phun restaurant at Taipei 101, all the way to the exhausting and exhilarating KOM ride itself, Taiwan was a revolution for me. People came from all over the World to do that ride, all of them excited and happy to be there. Motivated to give their best and enjoy the experience of both the ride and the culture. The night market, the secret and perfect little roads everywhere, the scooters.
That I was invited back to Taiwan the following year to circumnavigate half the island with Giant and their tour company was indeed the pleasure you would expect. Once again thrust into the heart of an utterly foreign culture I tried to absorb all that I could. From hot pot chicken to indigenous customs and tiny little roads that were effectively the highway of the region, Southern Taiwan was amazing in ways I never could have imagined.
Next up was China for UCI Cyclocross, literally the next week. A friend, Christine V, invited me to be on her team for the event as they needed to fill a roster spot – luck of the Irish I guess! I was way out of my class..I'm an average regional masters cx racer going up against the riders like Rob Peeters and Jens Adams, Swiss ace Marcel Wildhaber, and Australian National Champ Chris Jongewaard. On the women's side now superstar Ceylin Alvarado and Emily Kachorek traded victories in each of the races. My race was to not get lapped. I failed. In both races. But I did accidentally send my clothing out to be laundered by the hotel for like $100US – which is a MASSIVE fortune in rural China. I felt pretty dumb for that one…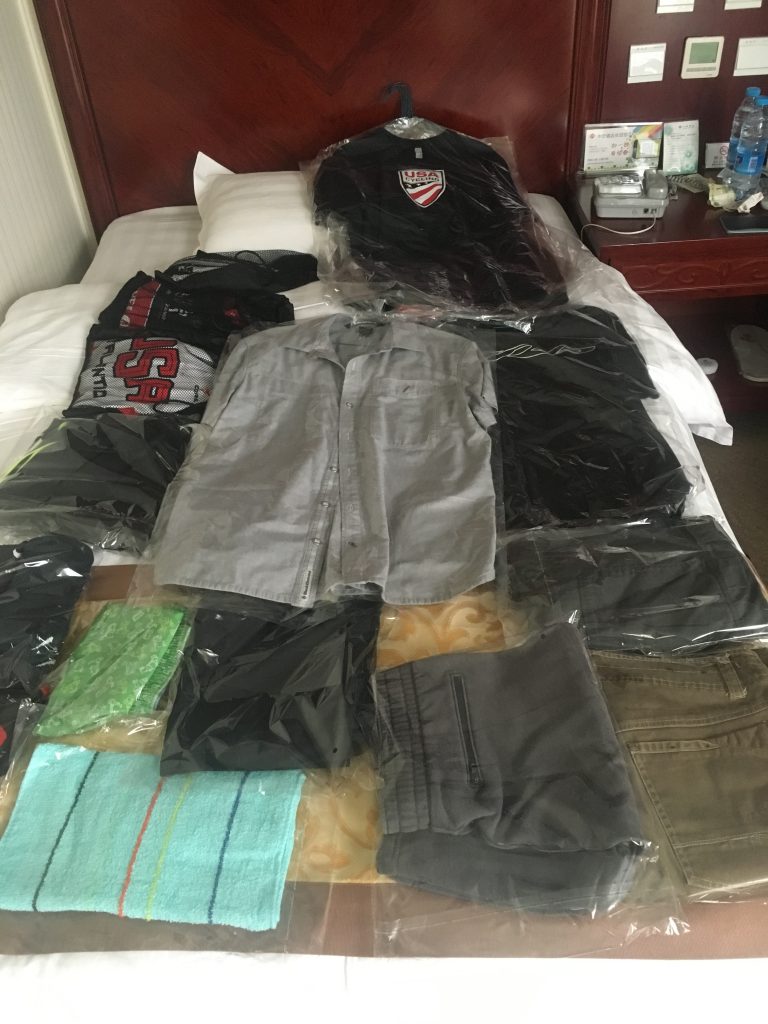 We were staying in Yanqing, set to be one of the sites for the 2022 Winter Olympics, and home to a Chinese military air base. So what's the natural thing to do? Duh, go find it!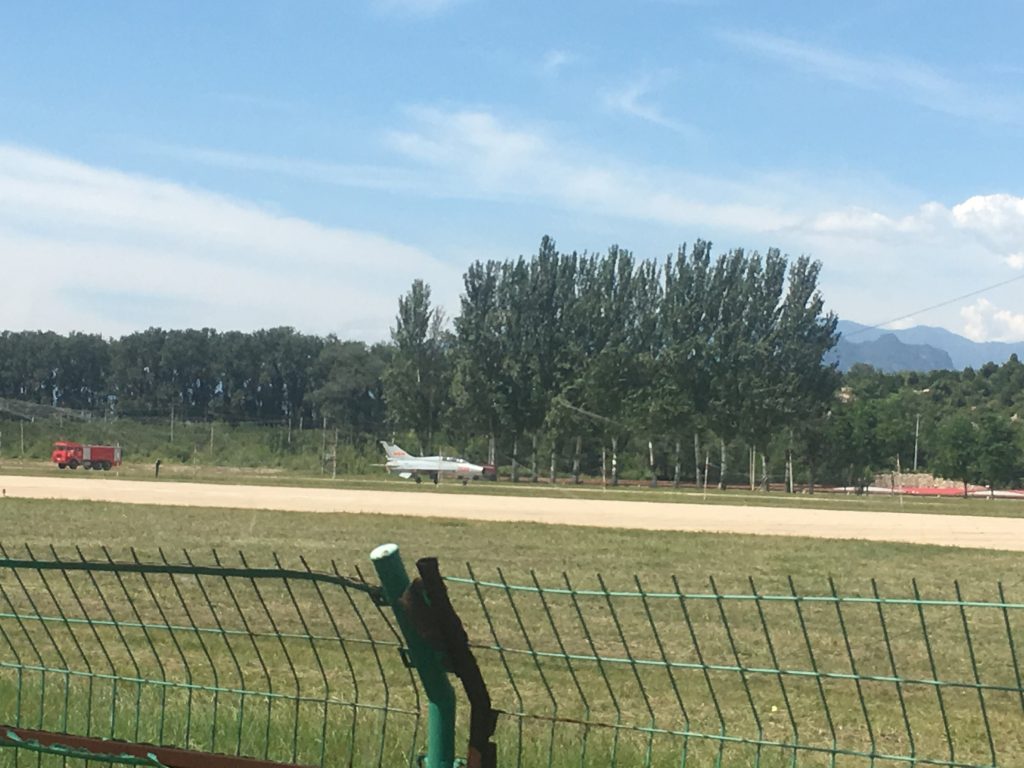 Big loud jets taking off every few minutes gave me a clue as to where to go and after a few minutes I found it. Total trip…but I went one better when we got to Beijing…
We had another race on the outskirts of Beijing in Fengtai – I got hammered again, but it was fun and such an honor to be part of the spectacle. Maybe the 400 kilometers in Taiwan the week before weren't the best "race" choice, but well worth it. As were the extra miles I rode in China between races. Exploring is the primary reason to go anyplace anyway, so why not go exploring!? Sitting in my hotel room looking for a place to go ride and I spy a trail, looks fun, let's go! Into Beijing traffic and working my way towards a point on Strava, turn left, guy with a big BIG gun at a gate right where I need to go. Ride up and through the gate, give Mr Gun one of those "can I go this way?" hand signals and he nods, so I go, wander around a Chinese Military base for 10-15 minutes.
WANDER AROUND A CHINESE MILITARY BASE…
Start to leave and the guard on the way out was not nearly as accommodating as the one on the way in, so they stop me and detain me. I wait for 10-15 minutes while they find someone who speaks english – and she is not very happy that I'm on the base, so she calls the next in command. Hey, this is novel I'm gonna take a picture!
Don't do that. They don't like that. I don't have a picture of how much they don't like that anymore. I did, but I don't, but I'm not in a Chinese prison so there's that.
I've been back to China for the UCI CX Race twice more in 2017 and 2018, the last time as team manager for a couple of my Pen Velo teammates. 2018 was a tough, yet rewarding, year as we rode on busses for the better part of 30 hours over the course of the week – but we got to see the amazing beauty of Inner Mongolia and the legendary smog of Handan.
If Taiwan got me started and China further whet my appetite then I surely owe USA Cycling a word or two for dropping Ireland on me not once, but twice! In 2017 and 2019 I had the distinct pleasure of leading Team USA at the Junior Tour of Ireland – a six day stage race that has played host to such cycling super stars as Geraint Thomas, Mark Cavendish, and a wide array of World Tour and Euro Pro's since it started in the mid 1970's.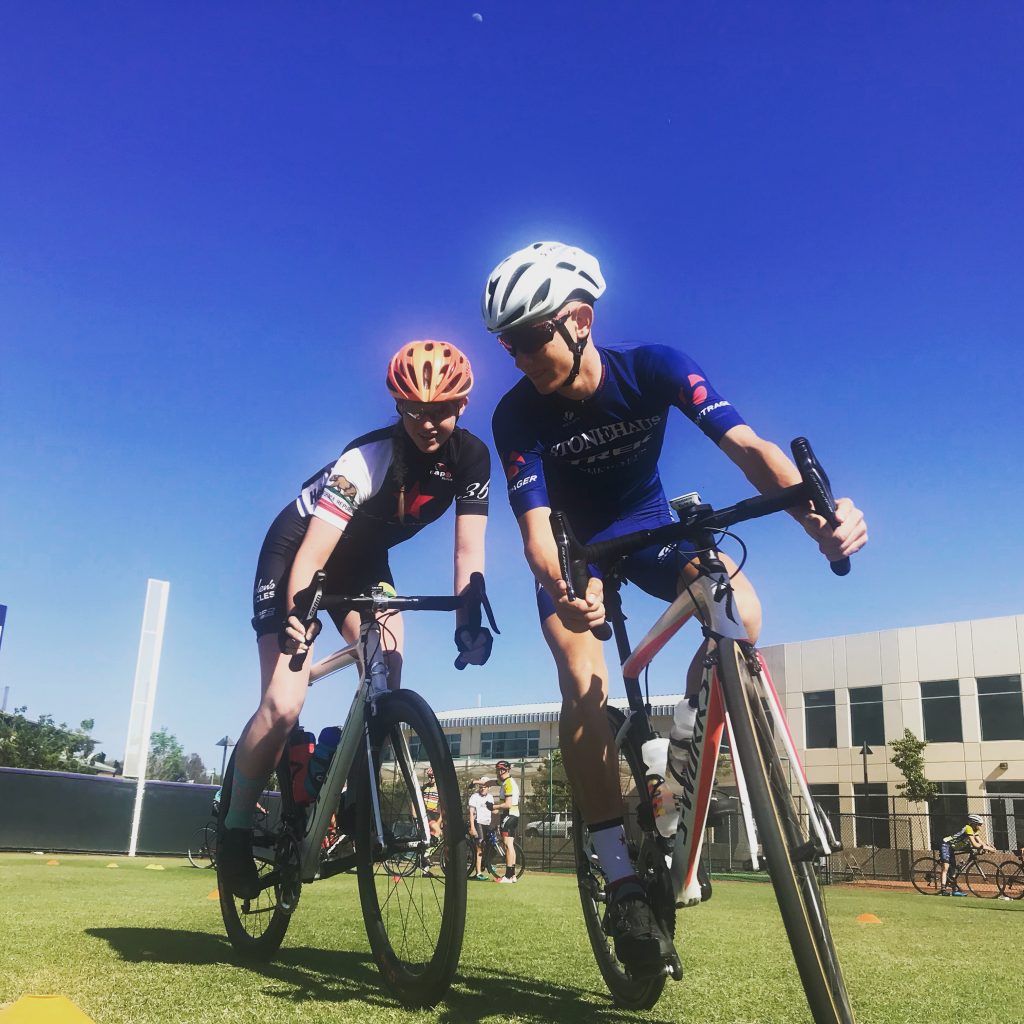 In 2017 USAC decided to send 5-rider teams from the East and West Regional Talent ID Camps (TID) to this legendary race and I was fortunate to play a part. The TID camps have been around for over 12 years and I think I've worked most of the West Coast ones. First as a "day" presenter working on the high and low speed skills elements with Coach Larry Nolan. In the last 10 years I've been at the camp all week working alongside coaches like Dan Smith, Joe Strandell and my boss at USAC Kevin Dessart. It is one of the most fun weeks of the year. After hosting the camps in Walnut Creek and Davis, California, the last three years have been held in Southern California at California Lutheran University in Thousand Oaks. Riders from all over the U.S. come to these camps to get their feet wet with USAC and to work on testing and skills over the course of the week. We usually have 20-30 riders, boys and girls, and put a huge emphasis on skills and development. To get to work with the other camp coaches to select five rider to join me in Ireland was a total blast and both times we've had the good fortune of finishing all five riders and, perhaps most importantly, escaping with nary an accident amongst the lot. Trust me, that's saying something when you put over 130 crazy fast juniors on the start line for 100 kilometer stages that are more akin to spring classics than what our U.S contingent is used to stateside. Speeds average north of 40kmh every day and the racing is ON from the drop of the flag.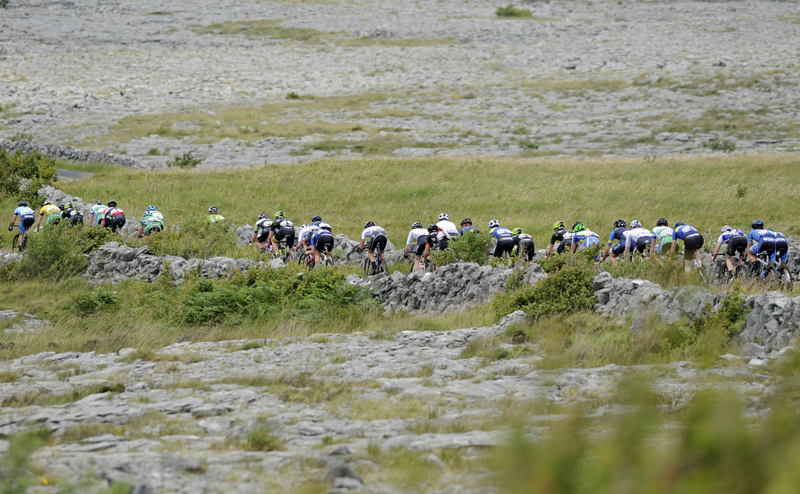 This is true "Euro" racing with full race caravans for support and riders from around the World vying for a result. This years race featured soon-to-be-Junior Worlds bronze medalist Magnus Sheffield among the starters, as but one example.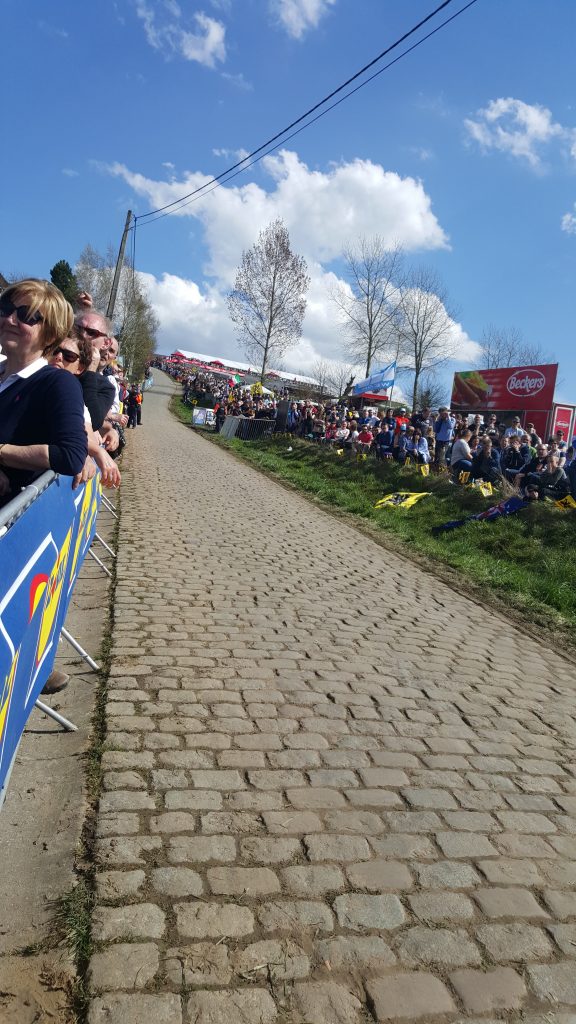 Finally, and thanks if you've made it this far, we come to mainland Europe. I've only been a couple of times so far, but each was memorable in its own right. It all kicked off in 2016 with a trip to the Tour of Flanders and Paris Roubaix Spring Classics. They are on every cycling fans "to do" list and I got to go! Such a thrill to ride the roads – I did the both Flanders Classic and Paris Roubaix Classics the day before the Pro races – to feel the cobbles under my wheels and to come to know the legendary sections; The Kapplemuur, The Paterberg, The Arenberg Forrest and the Carrefour de L'Arbre. Then to watch Peter Sagan dance to the title in Flanders in his overpowering style – I was sitting on the Paterberg, mere meters from where he launched the winning move. The next week I was at the last corner of the Carrefour de L'Arbe when Matt Haymen rolled through with a small lead only to be caught and then outsprint Boonen! Exactly where you'd want to be.
So memorable in fact, that in 2017 we came back – about a dozen of the Pen Velo crew and I. We dropped some big miles – over 500 of them – we drank a lot of beer, we got a private tour of Delerium brewery, we rode many of the famous climbs of the Ardennes classics including the Mur de Huy and La Redoute. We rode the full Roubaix classic – all 28 sectors of pave and just over 100 miles. We watched Gilbert storm for over 40 Kilometers, then we watched Van Avermat pull out his victory amongst a tough group of hardmen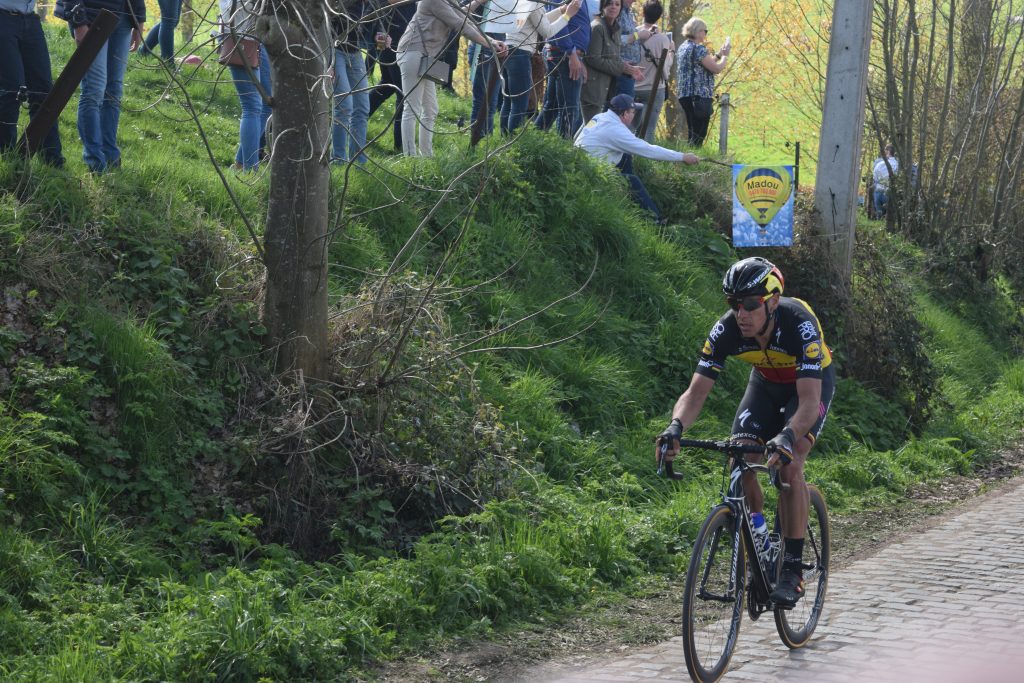 This doesn't cover all the adventures I've had, but it's a good start. Perhaps I'll get to my run in with the Deer, my Everesting attempt(s), and my fun with Pen Velo – probably I will, good stories to tell in there!
I've previously written about my 2018 adventure in France, so drop in and check it out…but like you I'm already asking myself "what's next?" A few ideas include: Columbia, China CX again, and perhaps the Italy trip I postponed last year.
But my real focus is on doing the John Muir Trail with my 15 year old in July. We don't have permits yet -hope hope – but we've talked about it for years now and she thought it would make a great 50th Bday present for me, so that's what she put up! 200+ miles of hiking over three weeks and nearly 50,000 feet of climbing – yep, right up my alley!